The UNWTO predicts the Indian outbound travel market will account for 50 million tourists by 2020, and its total outbound spending is expected to cross the US$28 billion mark. This, coupled with the country's new generation of middle class tourists, set to grow even further, makes it a potential tourist goldmine for thousands of destinations and travel businesses.
In its latest e-guide, HotelREZ Hotels & Resorts provides valuable insights to help hotel businesses understand the travel needs of one of the world's fastest growing travel markets, India. Download the 'Targeting the Indian Outbound Traveller' visual e-guide for free below.
Market Overview
The second most populated country in the world after China, India is a unique and emerging travel market. It is wise to note, however, that being this a relatively poor country, the majority of Indians still cannot ordinarily afford to travel abroad; so the 18 million departures registered in 2014 represents just a small fraction (barely 2%) of the total population.
Nonetheless, there are many positive factors which are responsible for India's increased demand for outbound travel: one is its national economy, which has been relatively strong within the last decade; another is India's middle class which is growing rapidly – currently estimated at almost 300 million, it is set to grow from the current 32% to 50% by 2030; and thirdly, the country's large diaspora and growing openness to the outside world, in particular from the younger generations. Second only to the Chinese, the number of Indian students studying abroad has risen sharply, in recent years, further stimulating travel abroad.
It is no wonder than, that the world of tourism is starting to take note. Among recent examples are:
Tourism Australia, aiming to get 300,000 Indian tourists by 2020;
The South African Tourism Board too, says India has become one of the key tourism generating nations;
Visit Britain aims to capitalise on the two country's historical ties and widespread use of the English language, to achieve 80% growth by 2020;
And, in a recent interview, TripAdvisor's President for the APAC region stated the company intends to be India's top travel website, by the end of this year.
The Indian Outbound Traveller
Although it can be very difficult to generalise the Indian travel market, as specific destinations will tend to cater to very different segments – i.e., VFR (visiting friends and relatives), leisure or business – significant conclusions can nevertheless be drawn.
There is also a strong distinction between the upper-middle class tourists, who often travel on a budget, and a small but extremely affluent segment, looking for all the prerequisites of luxury travel. Although India is classified as a poor and developing country, its luxury travel market is a relatively big one.
The outbound Indian traveller is more likely to be male (65%), between 25-65 years old, well educated, belongs to the upper socio-economic strata of society; and travels mostly for business purposes (40%), leisure (20%) and visiting friends and family (20%). Top destinations include Thailand and the UAE; thought to be selected due to their geographical proximity, relatively relaxed visa entry requirements, abundance of direct flights, strong business relations and a low currency conversion rate, in the case of Thailand.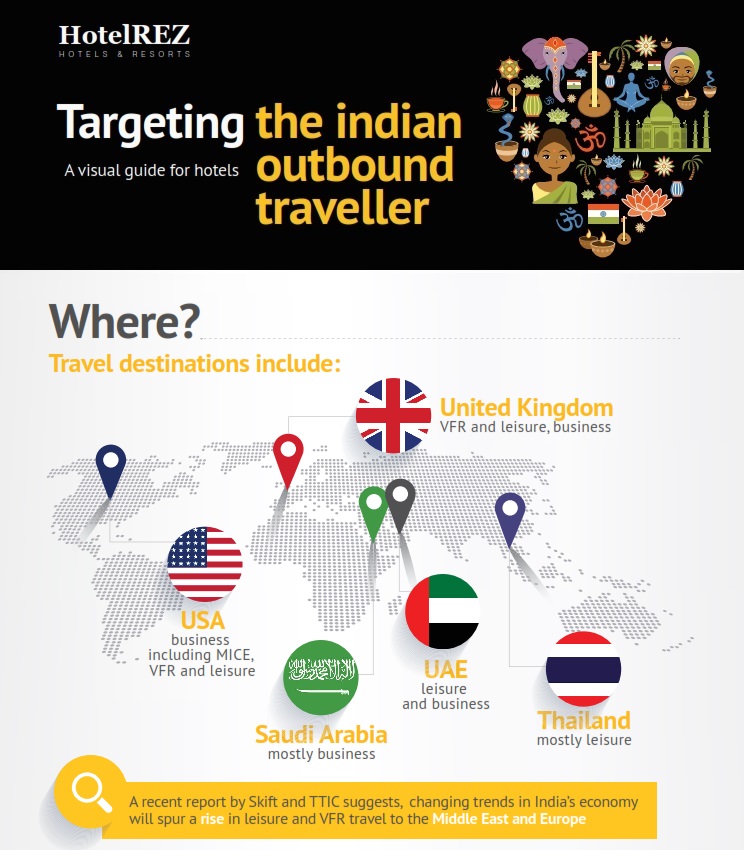 The APAC region, according to a new intelligence report, is consistently top for MICE travel, whilst the US, Middle East and Europe are expected to have increased visitation levels for both leisure and VFR (visiting friends and relatives) travel in the next couple of years.
When travelling for leisure, package tours, with the immediate or extended family, are often preferred. Reasons often cited are the benefits of comfort, safety and the greater potential for group discounts. But as the growth of the single person household is set to continue, on par with the country's economy, the need for stimulating independent travel (FIT) should not be completely discarded.
Also noticeable is the fact that Indians are taking more frequent holidays. According to data from Indian OTA Makemytrip.com, while five years ago, the average person would typically take an international holiday once every 18-24 months; this frequency is now estimated at once every 12-18 months.
Technology Needs
Technology wise, and according to the Internet and Mobile Association of India (IAMAI) and IMRG (Indian Market Research Bureau), India is now thought to be the second largest internet market globally, overtaking the US and only falling behind China. The same report indicated that India had shown a YOY growth of Internet usage of 32% from 2013 to 2014. This growth can be directly attributed to the decrease in hardware costs and the resulting increase in mobile penetration in the country.
Another interesting trend is the use of social media among Indian travellers. Recent research by Amadeus, places Indian travellers as active users, with 47% of Indians stating to use social media frequently during their travels. Likewise, Tourism Australia discovered 74% of all active internet users in urban India used social media; in particular Facebook, the most accessed social platform, followed by Google+ and LinkedIn.
Nonetheless, according to the Canadian Tourism Commission (CTC) although online distribution channels should be a way forward when it comes to travel purchases, the traditional travel agent still remains tremendously influential in India. The report states 80% of Indian travellers consult with an agent at least during the planning stage. So hotels still need to make sure that both a sound digital strategy, as well as a good relationship with the travel trade, is part of the plan to target Indian travellers.
Download the 'Targeting the Indian Outbound Traveller' e-guide to find out more on how to target and reach the Indian outbound market.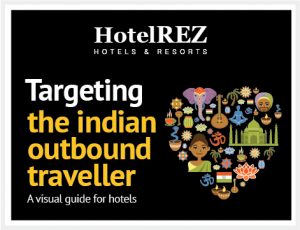 ---
Want to know what HotelREZ can do for your Hotel?
HotelREZ Hotels & Resorts is a hotel representation company providing distribution, sales and marketing consultancy and technology to independent hotels and small chains. We provide properties with GDS representation under our own HO chain code, and help market hotels to thousands of travel and MICE agents and partners worldwide. For more information on joining our portfolio of unique and independent hotels contact our Business Development team today or complete our hotel membership enquiry form.