Early this month, a new report from travel research experts Phocuswright, provided a more detailed overview of how travellers in eight key markets are navigating the evolving consumer travel life cycle. The report covers hot topics such as millennials driving the online travel trend in the so-called BRIC countries (Brazil, Russia, India and China), to the rapid adoption of mobile or the increasing popularity of metasearch websites.
But perhaps one of the most interesting findings is the fact that China is now leading the way, miles ahead of other markets, in terms of the numbers of people who have used a smartphone to book a hotel or flight. According to the research data, total travel bookings via mobile devices are expected to overtake those from desktops in 2016 in China, making it the first country in the world to do so.
By contrast, mobile bookings are still particularly low in European key markets such as Germany, France and the UK.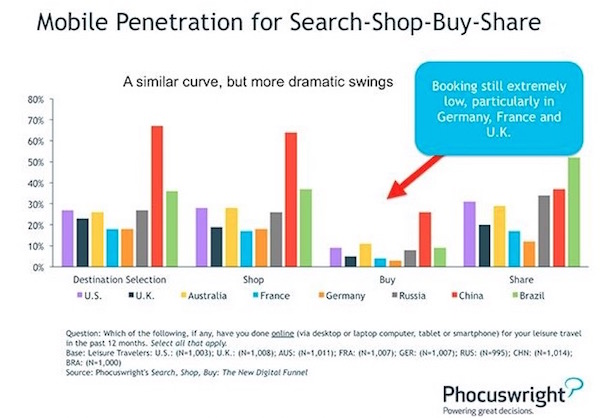 According to senior research analyst, Cathy Schetzina Walsh:
"Travellers may not yet be comfortable hitting the 'buy' button on their mobile device, but many are relying on smartphones and tablets to compare travel products and share trip experiences,"
"And mobile is playing an outsized role in emerging markets such as China, Russia and Brazil, where young, tech-savvy travellers eager to adopt the latest technology dominate online travel populations."
In the Phocuswright research, the millennial generation (aged 18-34), actually accounted for more than half of online leisure travellers in China, Brazil and Russia; and mobile shopping and sharing is of course at its highest in markets dominated by these tech-savvy youngsters.
---
Want to know what HotelREZ can do for your Hotel?
HotelREZ Hotels & Resorts is a hotel representation company providing distribution, sales and marketing consultancy and technology to independent hotels and small chains. We provide properties with GDS representation under our own HO chain code, and help market hotels to thousands of travel and MICE agents and partners worldwide. For more information on joining our portfolio of unique and independent hotels contact our Business Development team today or complete our hotel membership enquiry form.
Image Credits
Chinese girl with mobile by Marc Ben Fatma via Flickr (CC BY-NC-ND 2.0)
Mobile Penetration Graph by Phocuswright in Search, Shop, Buy: The New Digital Funnel via Webintravel