HotelREZ Hotels & Resorts, a leading global hotel representation company, has today launched a guide for independent hoteliers explaining how they can leverage their unique hotel qualities to target the next generation of millennial travellers.
A lot has been said about millennial of late. Some well known facts state millennial travellers are tech savvy, they are mobile, they expect things instantly. By 2030, this generation of travellers is expected to reach an eye-popping 78 million, surpassing baby boomers by 18 million. Recent research also shows this younger generation of travellers prefer genuine travel experiences reflecting what is unique about a destination.
Sharon Wimborne, Marketing and e-Commerce Director for HotelREZ, explains:
"Some of the key trends identified in our guide are that Millennial travellers expect high-tech facilities yes, but they also crave authentic and exciting accommodation experiences. And it's here that independent and smaller hotels can really shine.
Many independent and small group of hotels are still not clear on how valuable their product is to the millennial generation and how to capitalise on their natural uniqueness and appeal, which is why we compiled this guide.
As an independent, a hotel has both the flexibility and leverage that other bigger chain hotels sometimes don't. They can offer millennial guests a genuine, unique one-of-a-kind experience. It is normally easier to add on the high-tech facilities and services  to this offering , than trying to build authenticity."
To Download the full 'How To Market to Millennials: a visual guide for hotels' click here.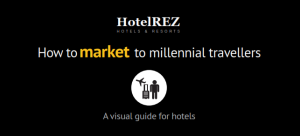 ---
Want to know what HotelREZ can do for your Hotel?
HotelREZ Hotels & Resorts is a hotel representation company providing distribution, sales and marketing consultancy and technology to independent hotels and small chains. We provide properties with GDS representation under our own HO chain code, and help market hotels to thousands of travel and MICE agents and partners worldwide. For more information on joining our portfolio of unique and independent hotels contact our Business Development team today or complete our hotel membership enquiry form.
Image Credits: Image by sidkid via Flickr (CC BY-NC-ND 2.0)