A recent study of more than 900 travel agents, concluded a record use of the Global Distribution Systems (GDS) for hotel bookings, and estimates 2015 as a record year, with over 62 million GDS hotel bookings being made worldwide. The bi-annual 2015 Global Travel Agent study, conducted by Phoenix Marketing International in partnership with TravelClick, surveyed agents across 48 countries who use Amadeus, Sabre and Travelport (Galileo and Worldspan).
The GDS is deemed one of the most popular channels, with over half of the surveyed agents (51%) admitting they are using it more often compared to the past two years.
GDS Advertising
The study further exposes advertising on the GDS as a way for hotels to get noticed. Nearly two-thirds (65%) of the travel agents claim they are aware of the GDS promotional text messages. Furthermore, among those who claimed they are aware of GDS advertising, nearly a quarter (24%) admit to request additional information by viewing the screen that's attached to the promo message, and 29% admit to look inside the GDS system for this information.
Other interesting findings concerned the likelihood of an agent booking a hotel displayed on a GDS promotional message, when researching for airlines, car rental or hotels.
The research showed that agents are as much likely to book a hotel displayed on a promo message when searching for hotels (26%) as when they are searching for airline tickets (25%).
Likewise, they are least likely to do so when researching for car rental (17%). These results suggest hoteliers should consider GDS advertising not only on accommodation display screens, but also airline.
Furthermore, globally seven out of ten travel agents admit they would book a hotel seen in a promotional message regardless of the type of screen (i.e. air, hotel or car), if it was a great offer.
Similarly, for travel agents across all regions, the most important detail for a GDS promo message is to ensure the promotion offers a rate that the agent can actually book for the dates he/she is searching for.
Travel Agent Incentives
Two out of three travel agents (65%) also acknowledged their likelihood to act on a specific promotional message if the offer were geared toward themselves (i.e. offering an incentive). Globally the most appealing agent incentive is agent reward points / agent loyalty programs (58%) and increased commissions (57%).

Rate Parity
Maintaining rate parity on all online distribution channels, including the GDS, is also stressed by the vast majority of the global travel agents as a vital issue – a whooping 96% of global travel agents consider rate parity on the GDS as somewhat or very important.
Over half the agents also state they actively look away from hotels not offering their best rates within the GDS.
Value-adds
Beyond competitive pricing, travel agents further indicated that amenities were critical when making a booking decision, with complimentary breakfast (83%) and free internet (72%) scoring some of the highest ratings. Other factors which are deemed to be driving travel agent behaviour on the GDS are: special rates (77%), free upgrades (62%), free night stays (50%) and star/consumer review ratings (43%).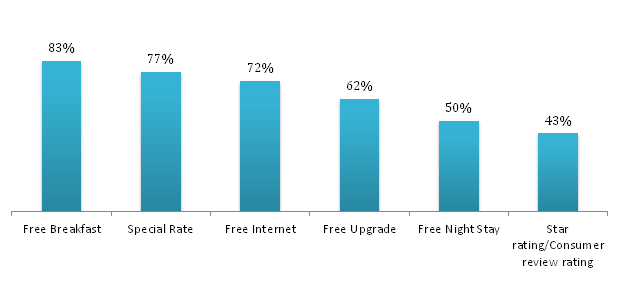 The study concludes rate alone does not deliver the best ROI, it's a combination of pricing and added value. Hoteliers should keep note.
---
Want to know what HotelREZ can do for your Hotel?
HotelREZ Hotels & Resorts is a hotel representation company providing distribution, sales and marketing consultancy and technology to independent hotels and small chains. We provide properties with GDS representation under our own HO chain code, and help market hotels to thousands of travel and MICE agents and partners worldwide. For more information on joining our portfolio of unique and independent hotels contact our Business Development team today or complete our hotel membership enquiry form.