Whether it is done as a way to cut utility bills and use resources more efficiently, minimize your hotel's environmental impact or differentiate your product, taking a sustainable approach simply makes good business sense. HotelREZ Hotels & Resorts expands on the business case for sustainability in hospitality, looking more specifically at hotel operations and what they can gain from going green.
Sustainability is one of the single most important global issues facing the world today. Climate change, air pollution, water conservation, waste management, deforestation and the loss of biodiversity are some of the pressing issues affecting societies and business operations across the globe.
Given the constant pressures facing the industry – not least the escalating energy prices and rising costs of food transportation – hospitality executives should have a clear understanding on how sustainable management systems can be integrated into their businesses while maintaining and hopefully improving their bottom line. There are many reasons as to why going green is a smart move for hotels, so here are a selected few.
Download a practical infographic of the top 5 Reasons Why Going Green means Good Business for Hotels. Here's a sneak peek.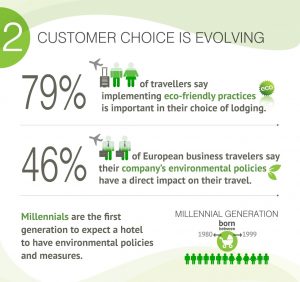 1. All the Big Players are doing it
Just recently, the world's biggest travel website, TripAdvisor launched its GreenLeaders programme (first in the US and Canada, later followed by Europe and the UK), essentially rating hotels for their environmental credentials. And when big businesses start jumping into the green arena, you can bet your bottom dollar, pound or euro, this is something to take seriously.
But even long before TripAdvisor, there have been plenty of green certification schemes in the industry. Travelife, for example, is a joint initiative endorsed by major travel trade associations and big tour operators such as Thomas Cook, TUI and Kuoni, which awards hotels for meeting important standards. Other recognizable programmes include the Green Key eco label in Europe, LEED (Leadership in Energy and Environmental Design) in the US or the Green Tourism Business Scheme in the UK. Traditionally certification programmes were used primarily as a tool to improve businesses efficiencies; nowadays they're as much a PR and marketing tool for potential hotel guests.
2. Customer Choice is evolving
Many hotel guests are now making choices on where they stay based on whether or not that accommodation is embracing sustainable tactics and giving back to the community. While this may not yet play a deciding factor on a first-time guest's choice of hotel, (location, amenities and service are often the most cited factors); the influence from customers might take place at a later stage, as public awareness increases and hotel guests come to expect certain practices in place such as recycling or energy conservation. In a 2013 TripAdvisor survey, 79% of travellers said implementing eco-friendly practices is important to their choice of accommodation. Furthermore, customer loyalty tends to increase once guests have experienced a hotel which has proven a certain level of environmental commitment.
And when it comes to the all important Millennial generation of travellers (born between 1980-1999), the green trend is simply unavoidable. Millennials are the first generation to have grown up in a world where sustainability, recycling to reduce waste and the issue of global warming have been topics openly discussed at the dinner table. According to a recent survey by Deloitte, one thing millennials do want, when it comes to hotels, is for green initiatives to be the heart of their operation.  Things like the adoption of local products, sometimes referred to as the "farm-to-table" movement, usually have a lot of appeal for millennials. It fits both the authenticity piece they crave for, and it fits with their values (of sustainability).
3. Substantial Cost Savings
Apart from being "the right thing to do", one of the most significant factors which influence the implementation of environmental practices in hospitality is financial savings. This is particular evident for those operating in a highly competitive market, and where utility costs are considerably high. In many countries, for example, energy is a hotel's largest expense, second only to staff. According to the Green Hotels & Responsible Tourism Initiative, most hotels are perfectly capable of reducing their energy consumption by 20-40% without adversely affecting performance. And despite the initial setup costs and the lengthy return on investment normally associated with big environmental initiatives such as installing solar panels, the economic benefits usually outweigh the cost of implementation. But even starting small with easy to implement measures such as retrofitting light bulbs, installing flow restrictors on hand washing sinks or training staff to be conscious with energy use can still lead to very substantial cost savings.
New research from UK experts Save Money Cut Carbon, has found that the hotel industry could save a whopping £38m simply by adopting energy efficiency and water efficiency measures in just half of the rooms currently available across the country.
4. Competitive Edge
Hotel chains discovered sustainability as a selling point long ago. Brands such as Hilton's Home2 Suites or Starwood's luxury "1" hotels, incorporated sustainability as a key design feature ever since their inception. Nevertheless, in a recent article, UK newspaper The Guardian found the boutique-style hotels, rather than big chains, truly driving the sustainability trend forward. Quoted in the newspaper, Willy Legrand, a hotel management university lecturer, stated the current best practices are in small boutique hotels, mainly because these are often independently owned and managed, many reflecting their owner's personality.  Other than product differentiation, a competitive advantage can also be gained from being recognized for you green efforts. Green awards and recognition spreads the news of a hotel's efforts and attracts new clientele, such as corporations looking to conduct business with socially responsible companies.
5. Regulatory Compliance
Another benefit of implementing environmental initiatives is compliance with current and/or future regulatory changes. The EU's 20-20-20 binding climate change policy, for instance, proposes to reduce emissions of greenhouse gases by 20%; increase energy efficiency by 20%; as well as reach 20% of renewable energy in the total energy consumption of EU member states by 2020. As a result, in the UK the government's Energy Saving Opportunity Scheme (ESOS) is one that requires all "large undertakings" to carry out a programme of energy audits before December 2015. Companies that fail to comply could face up to £100,000 fines and criminal proceedings could also be taken for non-compliance.  Hotel groups qualify for the Scheme if they employ over 250 people or have an annual turnover of £38.9m (€50m).Savvy hoteliers should therefore be already anticipating these changes and implementing initiatives that allow them to avoid potentially higher costs which might be associated with future compliance.
---
Want to know what HotelREZ can do for your Hotel?
HotelREZ Hotels & Resorts is a hotel representation company providing distribution, sales and marketing consultancy and technology to independent hotels and small chains. We provide properties with GDS representation under our own HO chain code, and help market hotels to thousands of travel and MICE agents and partners worldwide. For more information on joining our portfolio of unique and independent hotels contact our Business Development team today or complete our hotel membership enquiry form.