Two HotelREZ member hotels, Matfen Hall in Newcastle, and Barnett Hill in Guildford, have been awarded VisitEngland Excellence Awards, in the categories of Large Hotel of the Year and Excellence in Business Tourism.
The VisitEngland Awards for Excellence 2015 were announced at a glittering ceremony held on Monday 11th May in Newcastle. This year, the awards attracted as many as 345 applications, from which 75 finalists were selected across the different categories.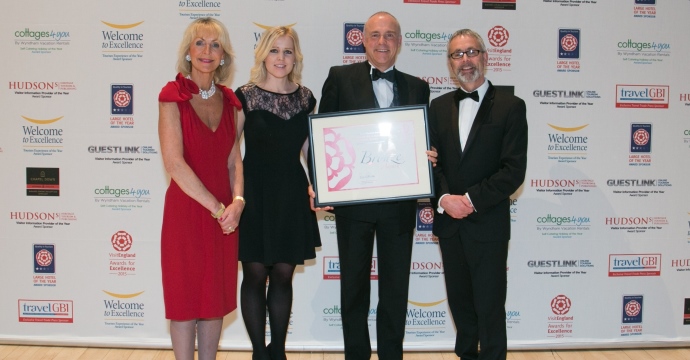 Matfen Hall Hotel Golf and Spa, a 4 star countryside property near Newcastle upon Tyne, was bestowed with the Gold Award for the country's best Large Hotel. The Gold Award is the highest Award for Excellence in Tourism which VisitEngland can bestow.
Bernard Bloodworth, Managing Director of Matfen Hall Hotel said:
"I am absolutely delighted for the entire team at Matfen Hall in receiving this most prestigious national award from Visit England. This award recognises the long term approach that Sir Hugh and Lady Blackett have taken with their ancestral home, and the support they have given the team over many years. But all of this would not have been possible without the wonderful loyalty we have been shown by our regular guests and members."
Matfen Hall Hotel, Golf and Spa, located in the charming village of Matfen, is the ancestral home of Sir Hugh and Lady Blackett. This stately home is set in 300 acres of parkland and has been a hotel since 1999. The 4 star luxury hotel offers 53 bedrooms, recently upgraded spa and leisure facilities and a golf estate which includes a 27-hole course, par 3 course and driving range.
In another prestigious category, Business Tourism, Barnett Hill, also a HotelREZ member hotel, was bestowed with the Bronze Award. The 4 star hotel is located just outside of Guildford in Surrey, and is part of the Sundial Group.
The General Manager at Barnett Hill, Tim Hall, who collected the award on the evening, stated:
"On behalf of all the team at Barnett Hill, I am delighted and very proud that we have been recognised by VisitEngland as an outstanding provider of services to business tourism. Winning the Bronze award in what was a very strong category that included some other excellent businesses is a great achievement for Barnett Hill and Sundial Group."
A beautiful Queen Anne-style property, Barnett Hill is situated within 26 acres of stunning gardens and grounds, and boasts fantastic connections to London. The hotel venue has 15 main meeting rooms and 56 en-suite bedrooms, available for residential events and overnight stays. Leisure facilities include a sauna, fitness suite and a games room.
Speaking on behalf of the awards, VisitEngland Chairman, Lady Cobham CBE, said:
"The VisitEngland Awards for Excellence celebrate the very best in English tourism. It is the highest accolade and recognises the true champions of our industry, as well as the top quality visitor experiences we are fortunate to have on offer in England. The competition is of an increasingly high standard and so I offer my sincere congratulations to all our winners on this tremendous achievement."
---
Want to know what HotelREZ can do for your Hotel?
HotelREZ Hotels & Resorts is a hotel representation company providing distribution, sales and marketing consultancy and technology to independent hotels and small chains. We provide properties with GDS representation under our own HO chain code, and help market hotels to thousands of travel and MICE agents and partners worldwide. For more information on joining our portfolio of unique and independent hotels contact our Business Development team today or complete our hotel membership enquiry form.