In our latest infographic we summed up all of HotelREZ Hotels & Resorts' achievements over the past year, including the incremental business brought to our portfolio of independents and small chains.
Being an independent hotel, more often than not, means you don't have a big marketing budget, or the staff and time to efficiently distribute, market and manage your hotel all on your own. In addition the recent announcements of hotel chain mergers and acquisitions, from the likes of Marriott and Accor, can make any independent feel like their fighting not only against one, but several "Goliaths" at the same time.
Today, and thanks to the advances of cloud computing, a myriad of technological solutions has become available to independent hoteliers, making the job easier, if not more efficient. However, technology alone will not enable your hotel to compete worldwide. The right representation company can help independent hotels access agents, online channels and preferred partners that won't or can't work with individual hotels, but will work with one group which represents them. Keeping your independence, brand name and individuality is just the cherry on top.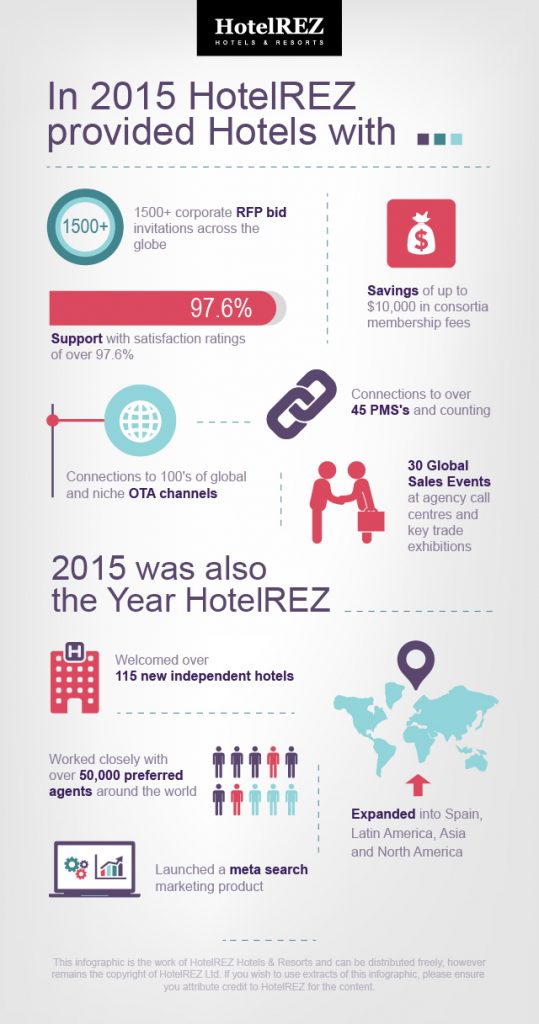 In just over 10 years HotelREZ Hotels & Resorts have become one of the world's leading hotel representation companies, offering full service marketing and sales representation to drive incremental business to independent hotels and small chains. Working with over 1,000 hotels worldwide, each of HotelREZ's members benefit from:
---
Want to know what HotelREZ can do for your Hotel?
HotelREZ Hotels & Resorts is a hotel representation company providing distribution, sales and marketing consultancy and technology to independent hotels and small chains. We provide properties with GDS representation under our own HO chain code, and help market hotels to thousands of travel and MICE agents and partners worldwide. For more information on joining our portfolio of unique and independent hotels contact our Business Development team today or complete our hotel membership enquiry form.