Last May travel intelligence company Skift, together with American Express, has published a report on the Lifestyle Habits of the 24/7 Business Traveller. In it, the lifestyle needs and habits of today's business traveller are surveyed, and emerging new trends in hospitality examined.
HotelREZ Hotels & Resorts breaks down the essentials of this report and reflects on what hotels should be doing in order to attract and retain their fair share of this profitable market segment.
Technology, Technology, Technology
There's no doubt that today's business traveller is all about being connected to his/her work – and personal life – through his/her smartphone, tablet and/or laptop.
"Business Travellers are very comfortable with digital devices – 95% own a smartphone, 64% own a tablet and on any given trip, some bring as many as four devices."
Tech-savvy, the modern-day road-warrior expects instant connectivity pretty much wherever he/she goes. So it comes as no surprise that free Wi-Fi is reported as the number one hotel amenity quoted by frequent business travellers, even surpassing free breakfast and exercise facilities.

"No matter the age or gender of the road-warrior, they share a common desire to save time. (…) Perhaps the biggest time-saver of all? Free, Reliable Wi-Fi."
The Millennial Generation is, of course, assumed to be shaping corporate travel like never before. This new generation of business travellers grew up with the internet and as a result greatly depends on technology and uses mobile devices more than its senior colleagues.
"Since they are used to tapping into their devices for services like groceries, instant music downloads and sundry deliveries like dry cleaning and household goods, Millennials expect to be able to do the same at their hotel."
HotelREZ's tip: If your hotel is already offering free Wi-Fi, as well as any other technology amenities such as iPod docking stations or iPads, make sure the message is being spread loud and clear across every channel, not just your website. If you don't offer free Wi-Fi, perhaps consider adding a special package that includes internet access to corporates.
Health and Wellness
Another new trend that is examined by the survey is the business traveller's need to maintaining his/her health while on the road. To today's road-warrior productivity goes well beyond being able to review a presentation or draft a report from his hotel room.
"Today, the executive is just as focused on what he is eating and where he can squeeze a workout as he is making sure his report can be downloaded on the hotel's Wi-Fi."
According to the report, hotels are now beginning to recognize that wellness facilities and spa treatments are no longer a luxurious treat, but a key part in shaking off jet lag as well as increasing the energy levels of business travellers. Some hotels are said to already keep their spas and gym facilities open round the clock for guests who arrive after traditional business hours. Others, understanding the popularity of health and fitness among business executives, started partnering with local gym studios to offer a la carte access to guests interested in taking up spinning or yoga classes during their stay.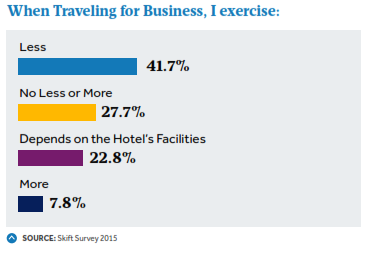 Understanding the important connection between nutrition and productivity among business travellers is also key.
"Food is also taking on greater importance, with many executives adhering to gluten-free, vegan and Paleo diets."
A couple of examples cited in the report mention hotel businesses who are now offering meetings and conferences delegates, with a new range of healthy eating options.
"Instead of relying on donuts and pastries to fuel the attendees' mid-morning, many can expect to see granola, fruit and yoghurt instead."
HotelREZ's tip: If your hotel offers fitness facilities you might want to consider making them available 24/7 to business travellers, with a keycard access. If there are spa treatments available on-site, be creative in promoting them to your business guests. For example, you might want to try throwing in a complimentary 15 minute neck and shoulders massage to all incoming long-haul guests.
Expanded Leisure Travel
Finally, the report expands on the growing trend of bleisure – that is, when corporates mix their business trips with leisure activities, sometimes even being joined by their family at a later stage. According to the survey, more than one in three business travellers indicated adding leisure activities to their trips on every, or nearly every, business trip.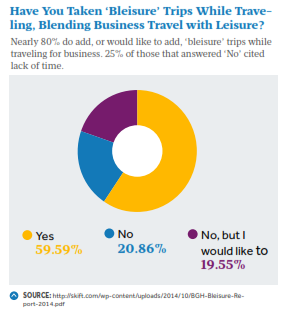 And once again millennials are reported to be driving this trend forward. In fact, on an earlier post on how to market to millennial travellers, HotelREZ has already reported that 62% of millennials are said to extend their business trips, when compared to just 51% of the older generations.
HotelREZ's tip: In order to provide for their bleisure guests, hotels should come up with different kinds of strategies from arming their concierges with knowledge of local attractions to providing business guests with a list of nearby activities, or offering special rates accessible only to corporates wanting to extend their stay.
Want to know more?
Take a look at a few other articles you might find interesting:
---
Want to know what HotelREZ can do for your Hotel?
HotelREZ Hotels & Resorts is a hotel representation company providing distribution, sales and marketing consultancy and technology to independent hotels and small chains. We provide properties with GDS representation under our own HO chain code, and help market hotels to thousands of travel and MICE agents and partners worldwide. For more information on joining our portfolio of unique and independent hotels contact our Business Development team today or complete our hotel membership enquiry form.