Pinterest in a nutshell
Pinterest is an image-led social media platform, where users connect to each other, as well as their favourite brands, by displaying and swapping images they identify with. Much like the concept of the old pin board, users can create topical boards, and "pin" image content to each board. They can also follow other users' boards and re-pin or like their images. Download Getting Started on Pinterest: a 10 Step Guide for Small and Independent Hotels for FREE today.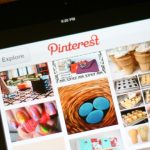 My hotel is already on Facebook and Twitter. Why should I waste time with Pinterest?
Well, first of all, the data shows Pinterest is here to stay. In fact, it is considered one of the top platforms for traffic referrals. According to Shareaholic's recent Social Media Traffic Report, Facebook, Pinterest and Twitter all dominate the list in traffic referrals. 
But given the size of their communities – Facebook is now around 1.15 billion users, Twitter 0.5 billion and Pinterest 70 million – as well as their particular share-friendly nature, it is no surprise that they top this list. What is interesting, however, is that Pinterest showed the highest year on year growth of all platforms, with 66.52%.
Yes Pinterest's reach isn't huge, compared to plenty of other social platforms, and yes it's well-known that its users are predominately women, but let's not disregard its impact on e-commerce. According to the latest numbers from social login provider Gigya, Pinterest has actually surpassed Twitter, at least when it comes to e-commerce sharing in the travel and hospitality industry. This means essentially, if something is being shared from a trade site, there's a higher chance that the content will end up on Facebook and Pinterest instead of Twitter, with Facebook grabbing 58% of the travel and hospitality traffic, followed by 19% from Pinterest, compared to Twitter's 13%. Furthermore, Pinterest accounted for 41% of all global social-mediated e-commerce sales, even surpassing Facebook by 4%.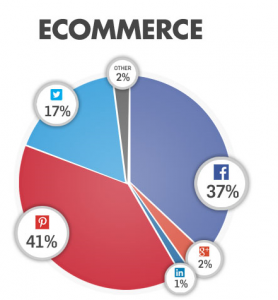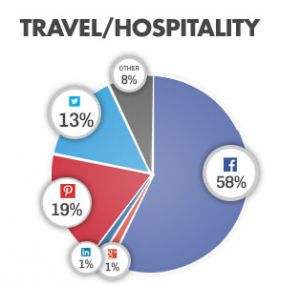 In the grand scheme of things, social still represents a small source of direct e-commerce traffic. However, we know that social media does play a very important role in multi-touch attribution, as 74% of consumers admittedly rely on social networks to inform, guide and influence their purchases, according to Gartner's 2010 study.
Pinterest and Travel
Another important aspect to consider is Pinterest' eternal love affair with travel, leaving travel marketers to proclaim it a match made in Social Media Heaven. Since its creation back in 2010, Pinterest estimates over 750 million pins in the 'travel' category, covering more than 1.5 million places and destinations all over the world. Expedia Media Solutions also recently published a study where it found that image searchers online are more likely to visit travel portals (50%), search for travel information (93%) or visit destination sites (62%), when compared to total travellers. And this is where a site like Pinterest delivers and has a competitive edge over other social media. In the last month Pinterest has attempted to further woo the travel industry by announcing its new 'Place Pins' concept, which basically allows boards to integrate interactive maps via a partnership with Foursquare, the popular location-based mobile application.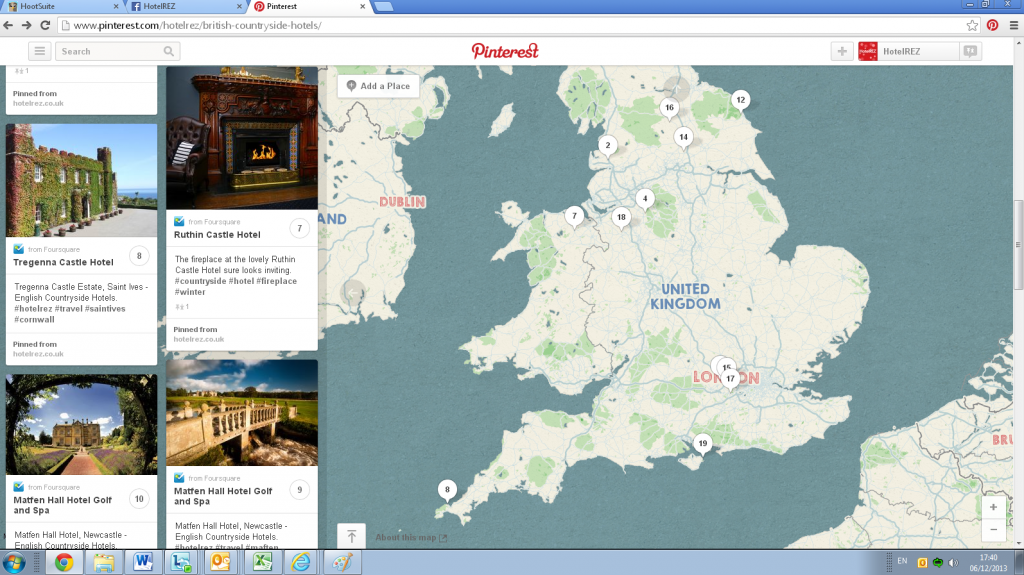 Harnessing Pinterest's Power and Influencing the Travel Decision-Making Process
Some of the biggest names in Travel such as Lonely Planet, Condé Nast or Visit Britain have already jumped on board, by creating visual tour boards to inspire their followers. At HotelREZ, we also used the new mapping feature for displaying our different hotel collections, as well as inspiring travellers with our most recent Christmas Campaign. One of the best examples of a hospitality brand using the this new concept is Four Seasons Hotels and Resorts. Four Seasons created a Pin-Pack-Go campaign which was efficiently integrated with the new Place Pins launch last month. In this campaign followers are encouraged to:
Create a Pin.Pack.Go board on Pinterest
Leave a comment indicating which Four Seasons they will be visiting, so the hotel will then be able to follow the user on Pinterest
The user should then follow back and invite the hotel to pin as a collaborator on their board
The hotel's local experts will then pin their recommendations, filled with insider knowledge and any hidden gems
Since it plays such a key role at both the aspirational and planning stages of the travel decision-making process, Pinterest should therefore be considered a priority by the entire travel sector, including hospitality.
Want to get started on Pinterest?
---
Want to know what HotelREZ can do for your Hotel?
HotelREZ Hotels & Resorts is a hotel representation company providing distribution, sales and marketing consultancy and technology to independent hotels and small chains. We provide properties with GDS representation under our own HO chain code, and help market hotels to thousands of travel and MICE agents and partners worldwide. For more information on joining our portfolio of unique and independent hotels contact our Business Development team today or complete our hotel membership enquiry form.
Image Credit
Pinterest on iPad by Bunches and Bits {Karina} via Flickr (CC BY-NC-ND 2.0)