Fact: Online reservations are the backbone of hotel revenue these days and Internet Booking Engines (IBE) are this century's key innovation for any hospitality business. But where does that leave the good old reservation centre (CRO)? Are voice reservations still capable of driving worthwhile revenues? And if so, is your hotel handling these enquiries effectively?
We take a look at phone sales as part of a hotel's revenue strategy and provide you with some top tips on how to effectively convert callers into bookers. Download the HotelREZ's list of Dos and and Dont's when handling voice reservations below.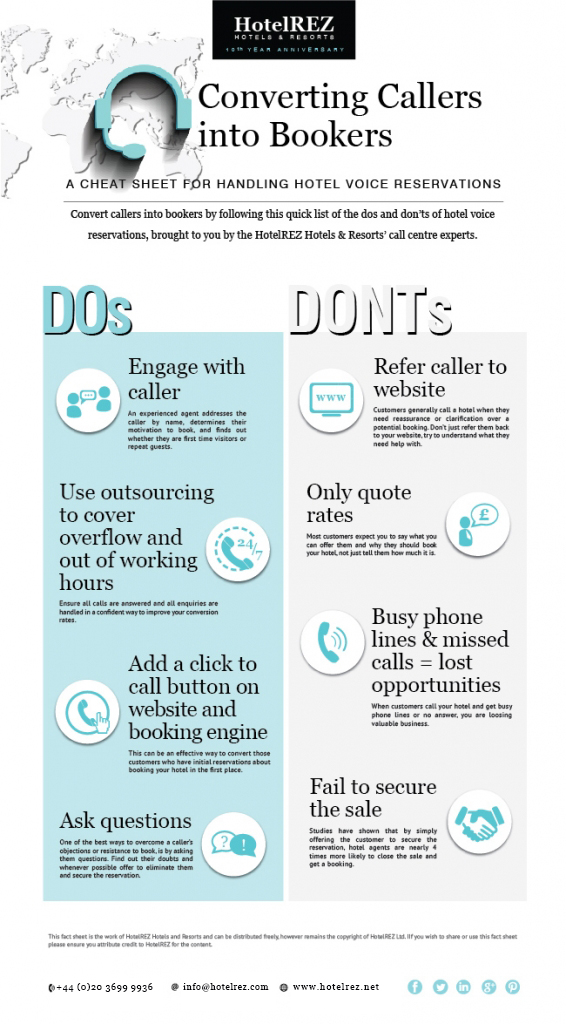 Voice reservations support your online efforts
Voice reservations are a great way to increase direct bookings, and should, in theory, be an easy sell – the customer is already interested in your hotel – however, most properties fail to handle these leads correctly. Many hoteliers dismiss CROs, and see them more as an expense rather than a productive and important channel, or, more importantly, a valid way of increasing direct bookings. In fact, most of the time voice reservations are a complement to the hotel's own online offerings. According to a recent article on Hotel News Now, prospective guests generally call hotels because they are:
Confused by conflicting online guest reviews and social media postings;
Overwhelmed by the amount of different room types and/or packages online;
Enquiring whether the online rate is, in fact, the lowest possible rate, and/or that it is the final price (i.e. inclusive of all taxes and hidden fees);
Multi-tasking (such as driving) while on the phone, and don't want to use their thumbs to complete the booking on a smartphone
What are Hotels doing wrong?
A couple of years ago ContactPoint, a market leader in sales and customer service optimitics, analysed 4400 recorded actual phone calls from 30 hotels across the United States. The study found, for example, that the simple act of offering to secure the reservation made the caller 4.4 times more likely to book the hotel. However, the same study revealed unexperienced hotel staff, failing to engage with the caller, only asked for the sale 52% of the time, missing out on potential bookings.
Other common mistakes hotels make are missing calls from potential bookers on weekends or out of regular staff hours. Making sure you hotel has a backup plan, including out of hours and overflow support when your lines are busy, is essential to maximising your conversion rates.
How to convert callers into bookers
HotelREZ Hotels & Resorts' call centre has a team of multi-lingual expert agents with extensive knowledge and experience of the hotel industry, allowing independent and small group of hotels to outsource their voice reservation desks, with dedicated lines, as well as providing overflow and after hours support when lines are busy.
Our very own call centre experts have compiled a useful list of the Dos and Don'ts when it comes to handling voice reservations and effectively converting callers into bookers. Download this fact-sheet below.
To find out how you can benefit from our Hotel Reservation Call Centre services, contact our team today.
---
Want to know what HotelREZ can do for your Hotel?
HotelREZ Hotels & Resorts is a hotel representation company providing distribution, sales and marketing consultancy and technology to independent hotels and small chains. We provide properties with GDS representation under our own HO chain code, and help market hotels to thousands of travel and MICE agents and partners worldwide. For more information on joining our portfolio of unique and independent hotels contact our Business Development team today or complete our hotel membership enquiry form.